Chocolate mousse Dessert
Tonight, we had 30 for our traditional Friday night spaghetti dinner. While spaghetti is traditional, Friday also gives me a regular opportunity to make dessert, to experment, perfect, and try-out, recipes that I'd normally not have the opportunity to make.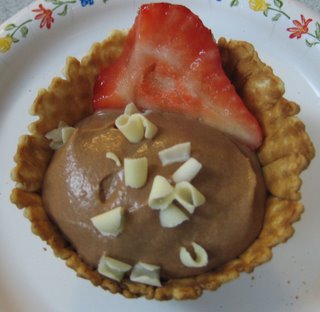 Tonight it was Chocolate mousse, served in a waffle cone bowl, and topped with white chocolate shavings, and a strawberry. Tasted delicious, the cone complimented the sweetness of the mousse well, and the white chocolate shavings not only looked great but were the perfect accent.
Chocolate Mousse
1/2 c. sugar
1/2 c. water
1 c. (6 oz. pkg) semi-sweet chocolate chips (add another 1/2 c. when using as a filling for this cake)
2 eggs
1 1/2 c. heavy cream, whipped
(1 t. vanilla, optional)
Combine sugar and water in a saucepan and bring to a boil. Melt chocolate chips and add to sugar syrup. Beat for 6 seconds. Add eggs (and vanilla if desired) and blend for 1 minute. Fold mixture into whipped cream. Spoon into individual serving dishes. Refrigerate until firm. NOTE: Use more chocolate when using for cake filling to make it stiffer. Spread between layers. (Pipe a dam around edge of bottom layer with Frosting, then fill with Mousse. If needed, refrigerate until frosting and filling are stiff, before adding second layer.)